Posted by

Pardridge Insurance Agency, Inc.

on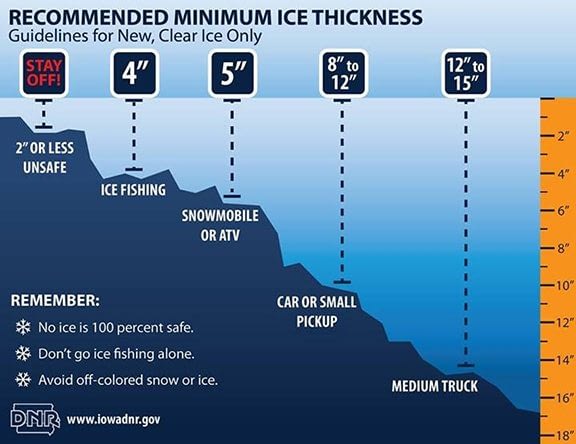 Snow and ice do not stop those willing to brave the elements for fun and adventures. In fact, some people seek out the byproducts of winter weather for exercise, fun, and relaxation.
Whether you snowmobile across a snowy plain or skate across an icy pond, you can make the most of winter with these tips from Grinnell Mutual and Pardridge Insurance of Sycamore.
1. Know before you go on the snow.
From snowmobiles to snowshoes, outdoor enthusiasts are always on the hunt for fresh powder.
"Fresh powder snow makes for good riding," said Thad Means, an avid snowmobile rider and a claims adjuster at Grinnell Mutual Reinsurance Company. "When you have an endless white plain and a good snowmobile, it's a pretty big thrill."
One way you can prevent an accident is to speak with land owners before you ride on their property. This way you can get permission to ride on the property and learn whether there are any hazards such as fences, culverts, or other objects that may lurk under the fresh powder. (Read about adapting your driving to winter conditions.)
If you choose trail rides over fields, look at the map before you ride, recommends Laurie Cisewski, claims adjuster with Grinnell Mutual.
"It's a safety thing. Everyone needs to look at the map. Look for bends in the trail, road crossings, and open water," says Cisewski. "There are warning signs, but sometimes they get covered up with snow."
Local snowmobiling clubs can be a great resource for local trail information. Grinnell Mutual has a state-by-state list of trail maps and reports on the Front Porch blog.
2. Watch out for thin ice.
"It's fun to go out on the ice," said Paul Christensen, claims adjuster with Grinnell Mutual. "It fends off the cabin fever." (Read Christensen's close call with thin ice.)
Whether you skate, play pond hockey, or auger a hole for ice fishing, Grinnell Mutual recommends checking ice thickness to ensure that it is safe enough for your activities. For ice fishing, ice should be at least 4 inches thick. When driving on the ice, the thickness should be at least 5 inches for ATVs or snowmobiles and 8 inches for small cars and trucks. (Read more about snowmobiling on bodies of water.)
Ice may not have an even thickness. Sunshine, warm air temperatures and water currents can weaken ice from above and below. Snow can insulate the ice and mask thin ice conditions. That's one reason why the Minnesota Department of Natural Resources recommends checking ice thickness every 50 yards by creating a hole with an ice chisel or ice auger. (Read more ice safety tips.)
"Snow cover can act as a blanket, which prevents thick, strong ice from forming and may mask deteriorating ice," said Cisewski. "There's always a possibility of going through and drowning."
3. Be prepared with proper gear.
Ice, snow, wind, and cold can interfere with winter fun. Layering clothing and having the right safety equipment for your activity may prevent an incident from turning into something more serious.
"If you go through the ice you've got to be able to get out to avoid hypothermia or drowning," said Terry Hintz, senior claims adjuster at Grinnell Mutual. He went through the ice once on an ice fishing trip.
"I wear a tool around my neck with two prongs on it that I can jab into the ice to pull myself up out of the water and back onto the ice if I should happen to go through," said Hintz. "Hopefully that never happens again since I am a lot more cautious and will not venture out onto thin or questionable ice."
4. Remain calm if you break the ice.
If you do break through the ice, try to remain calm and follow these tips from the Minnesota Department of Natural Resources.
Turn in the water towards the direction you came from. That is probably the strongest ice.
Pull yourself out. Using ice picks, stab the ice, kick vigorously with your feet, and pull yourself onto the surface by sliding forward on the ice.
Roll away from the area of weak ice. Rolling on the ice will distribute your weight to help avoid breaking through again.
Get warm. Go to a heated shelter or vehicle, change into dry clothing, and warm yourself with non-alcoholic, non-caffeinated drinks.
For more information
For more information on enjoying the outdoors in winter, visit the Front Porch on grinnellmutual.com.
Filed Under: Blog, Recreational Vehicle Insurance
|
Tagged With: insurance, Sycamore