Posted by

Pardridge Insurance Agency, Inc.

on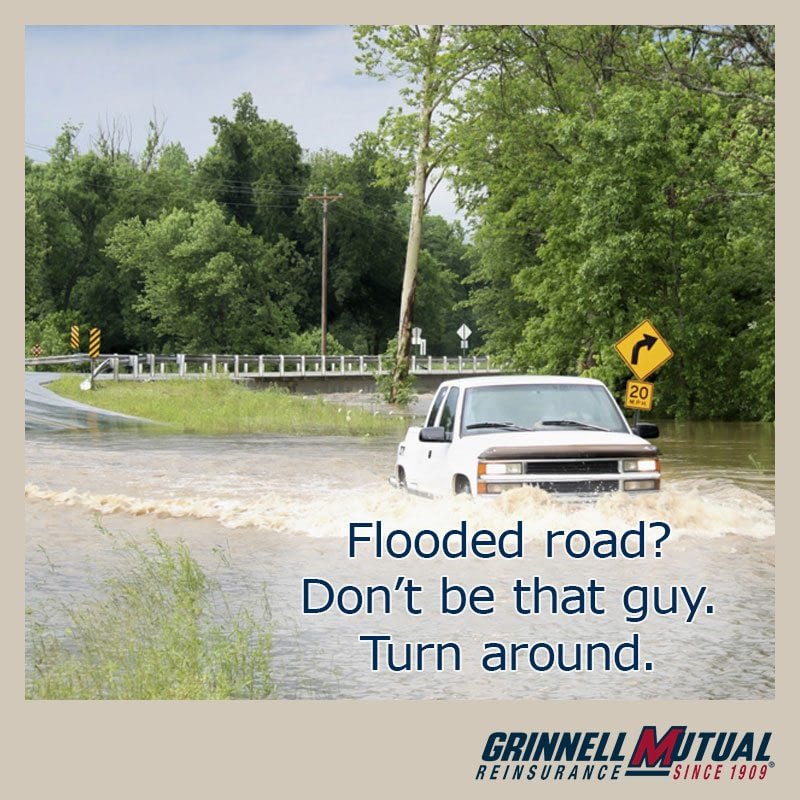 Turn around, don't drown.
The next time your community receives a flood watch or warning, you'll probably hear that phrase from your favorit weatherperson. Pardridge Insurance urges you to avoid driving in flood waters because of the threats to your vehicle and your life.
Flood waters are the deadliest form of severe weather. More people died because of flood waters than lightning, tornadoes, or windstorms in 2013, according to the most recent data available from the National Weather Service.
"A fast flowing creek 12 inches deep could wash a vehicle off the road," said Robbie Gray, auto physical damage manager at Grinnell Mutual. "It's not a risk worth taking. The safest thing to do is find an alternate route. Stop, turn around, and go in the other direction."
Flood waters can also damage roads and displace manhole covers leaving behind holes and washouts that can damage your vehicle's suspension or even trap your vehicle.
"The water can be so dirty that you can't see what you're driving through," said Gray. "Even if you've driven the road for years, you don't know if the road is washed out. Once you're in that situation, it's too late."
Flood waters damage vehicles
Driving through flood waters can affect your vehicle's wheels, electronics, and engine, which may cause permanent damage. It may even disable your vehicle, leaving it dead in the water.
Water in the engine. In deeper water, your engine can ingest water into the intake system. This condition is called hydrolock and can cause serious damage to your engine.
Water in the wheels. There are many parts within the wheel from brakes to bearings. Water can damage these parts, affecting steering and braking and shortening the life of these parts.
Water and electronic components. "You have electronics everywhere in vehicles. Some cars even have computers under the seats," said Gray. "Water can compromise many of those computers and components."
For more information
Learn more about protecting your vehicle and yourself. Visit the Front Porch blog on grinnellmutual.com.
Or call Pardridge Insurance today at 815-758-4447.
Filed Under: Auto Insurance, Blog, Car Insurance
|
Tagged With: auto insurance, car insurance, Flood, Insurance Agent, Sycamore