Posted by

Pardridge Insurance Agency, Inc.

on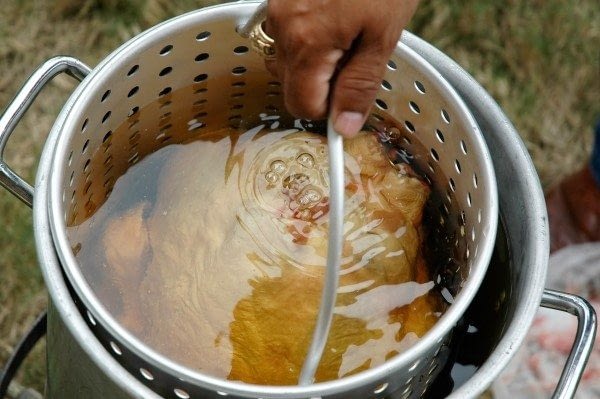 By: Reposted from ErieSense.com

Research shows that Thanksgiving is the most common day of the year for home cooking fires—and that turkey fryers are a major reason why.
That's because turkey fryers hold gallons of oil, a combustible substance. A large turkey can cause the oil to splash, leading to a fire or skin burn.
A Safer Option
Today, you can "fry" without actually frying thanks to oil-less turkey fryers. Oil-less turkey fryers come with a propane burner that produces infrared heat. That heat then seals in the meat's juices, producing a turkey that's moist on the inside and crispy on the outside.
Oil-less turkey fryers aren't only safer—they're also healthier. They also let you keep using your favorite rubs and marinades and collect the drippings for any gravy making.
Other Turkey Frying Tips
Still attached to your traditional turkey fryer? If so, you'll definitely want to keep a few things in mind.
Before Cooking
Buy the right-sized bird. A 12- to 14-pound turkey is usually the biggest bird a turkey fryer can accommodate.
Let your turkey thaw and dry. Excess water causes oil to bubble up, which increases the chances of a spill. (The National Turkey Federation recommends thawing the turkey in the refrigerator approximately 24 hours for every four or five pounds of whole body turkey.)
Find the right spot. Place a propane-fired outdoor fryer on a level spot far away from your house and any other structures. Indoor electric fryers are often safest on porches, patios, garages or an outdoor area within reach of an electrical outlet; otherwise, place it on a countertop that's a safe distance from any overhead cabinets.
Do not exceed the "fill line." Most fryers have a "fill line" indicating how much oil to put in the fryer. If yours doesn't, place the turkey in the fryer and fill three to five inches from the top of the fryer.
During Cooking
Keep an all-purpose, dry-powder fire extinguisher close by. Never use water on a grease fire.
Heat the oil slowly. Also monitor the oil's temperature. (Check your user manual for the manufacturer's recommendation.)
Stick around. Many flare ups happen when no one's keeping an eye on things.
Fires can happen with less risky cooking techniques, too. Keep your family and friends safe this season (and beyond) by following these safe cooking tips.
– See more at: https://www.erieinsurance.com/blog/2013/turkey-fryer#sthash.q8KPsrw8.dpuf